I would like to share with you that we are working on an updated DIY kit.
The two main downsides of the current DIY kit are that people need to print their own enclosure and that due to the small size, the temperature sensor gets too hot from surrounding components and can be 1.5-2 degrees celcius above ambient temperature.
So we are currently designing an additional DIY kit that addresses these issues.
Enclosure
For our professional AirGradient ONE sensor we designed our own plastic injection-molded enclosure that looks great, has enough space for sensors add-ons, cable management (cable from top or bottom or directly from behind), and is optimized for airflow and accurate measurements.
The enclosure looks like this:
Backside
So we thought, why not use this enclosure for our next generation DIY kit?
Redesigned PCB with accurate Temperature Measurement
The bigger enclosures give us the possibility to isolate the temperature sensor inside the enclosure and make use of the airflow characteristics that we specifically designed this enclosure for. As a result, the temperature measurements will be very close to ambient temperature (probably in the range of 0.2-0.4C to ambient).
The larger PCB also allows for more extensibility, e.g. a separate D1 shield area where e.g. a batterie shield can be plugged in and enough space for additional sensors.
Here is a picture of the current prototype DIY v2 PCB:
and with components

We are planning to add a lot more empty pins on the board to allow people adding their own extensions.
Larger OLED Display
We would also go for a slightly larger 1.3 inch OLED display that would allow to display all air quality parameters at the same time: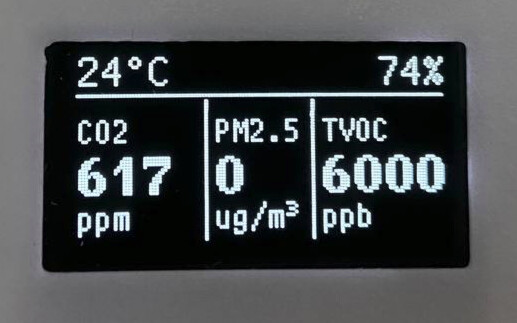 The plastic injected enclosure would then have a cutout to fit in that display.
Summary
Enhanced AirGradient DIY Kit Version 2 comes with a professional, nice-looking enclosure and is more accurate due to its better thermal characteristics. Probably still using the same sensor components with a slightly larger display. Besides the enclosure, we might also add cable, power plug, and a TVOC sensor module to this new kit. We try and keep it compatible with our Open Source AirGradient Arduino library.
Please let me know your thoughts and feedback on this!